JCR Vol. 01 No. 01: Symposium on Creation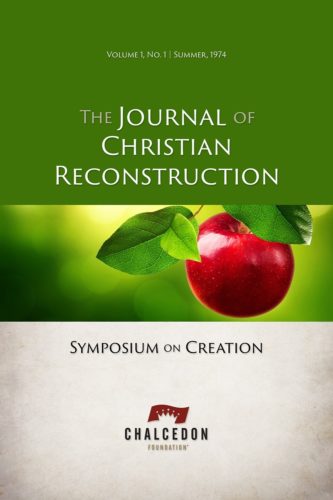 Specifics concerning creation are officially relegated into the realm of things indifferent to salvation or the life of the church. Various perspectives serve as popular alternatives to the six-day creation within circles that still concern themselves with the question of biblical inerrancy.
Read inside...
Topics: Culture , Economics, Science
Gary North
Dr. Gary North (1942-2022), served as the editor of the Journal of Christian Reconstruction from 1974-81. He is the noted author of scores of articles and over thirty books on economics and history. He served as editor for GaryNorth.com and The Tea Party Economist and was the Director of Curriculum Development for the Ron Paul Curriculum.
Stuart E. Nevins
Charles A. Clough
Walter E. Lammerts
Bolton Davidheiser
Cornelius Van Til
Greg L. Bahnsen
Greg L. Bahnsen, (1948-1995), was an ordained minister in the Orthodox Presbyterian Church and a full time Scholar in Residence for the Southern California Center for Christian Studies where he taught Apologetics from a distinctly Reformed perspective. 
Bahnsen was a pillar of the Christian Reconstruction movement begun by Rousas John Rushdoony and wrote and spoke frequently for Chalcedon in the 1970's. Bahnsen was a leading proponent of theonomy, postmillennialism, and presuppositional apologetics. His 1985 debate with atheist scholar, the late Gordon Stein, was dubbed The Great Debate, and remains a classic as well as a benchmark in Christian apologetics.
His early death came as a result of complications following his third heart surgery in December of 1995.
Vern S. Poythress
R. J. Rushdoony
Rev. R.J. Rushdoony (1916–2001), was a leading theologian, church/state expert, and author of numerous works on the application of Biblical law to society. He started the Chalcedon Foundation in 1965. His Institutes of Biblical Law (1973) began the contemporary theonomy movement which posits the validity of Biblical law as God's standard of obedience for all. He therefore saw God's law as the basis of the modern Christian response to the cultural decline, one he attributed to the church's false view of God's law being opposed to His grace. This broad Christian response he described as "Christian Reconstruction." He is credited with igniting the modern Christian school and homeschooling movements in the mid to late 20th century. He also traveled extensively lecturing and serving as an expert witness in numerous court cases regarding religious liberty. Many ministry and educational efforts that continue today, took their philosophical and Biblical roots from his lectures and books.
Dennis E. Johnson
Roger Wagner
Roger Wagner has been Pastor of Bayview Orthodox Presbyterian Church, Chula Vista, CA since 1983. He also serves on the board and faculty of the Southern California Center for Christian Studies and teaches Biblical studies and theology at Covenant Christian High School in Chula Vista. He first met R.J. Rushdoony in the mid-1960s and has been a friend of Chalcedon since its founding. He has previously published articles in both the Chalcedon Report and the Journal of Christian Reconstruction. He and his wife, Sherry, have three grown children and one granddaughter. He can be reached at [email protected].