Faith & Action (audiobook)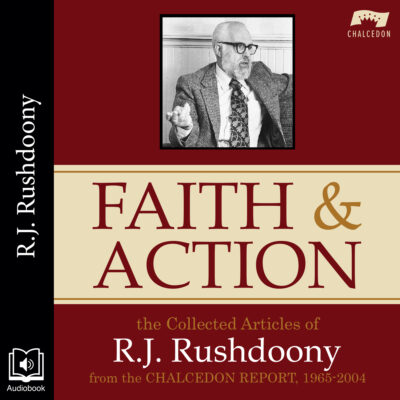 Faith and Action is the complete collection of the essays of R. J. Rushdoony written for the Chalcedon Report between 1965 and 2001 along with several transcripts of his recorded talks. The large volume The Roots of Reconstruction only contained his Chalcedon Report essays up until 1985, so most of the essays included in Faith & Action were unavailable to readers for many years until now.
In order to make the author's knowledge more accessible, this three-volume collection features some of the most extensive indexing we've ever done including a General Index, a History Index, a Scripture Index, a Works Cited Index, and a Chalcedon Report Directory. A total of 183 pages of indexing! This handsome set of books is a must have for any serious library.
The central theme of this collection of essays is Christian Reconstruction, which to Rushdoony meant the responsibility of Christian citizenship in the Kingdom of God. For him, his central drive behind his research and writing was to move men to faith and action.
Rushdoony was primarily an essayist who vigorously and prolifically wrote on a multiplicity of subjects, issues, and dis­ciplines. Despite his being critical of both the contemporary church for its compro­mise and the humanistic state for its will to be as God, these essays are replete with Rushdoony's undying faith in the victory of God in history.
Rushdoony's "big idea" was Christian Reconstruction which centered not on a pursuit of political power but rather an equipping of Christians to take back government by means of self-government in terms of God's law.
This three-volume collection will no doubt serve the larger church for many generations as they seek first the Kingdom of God in their spheres, and in their times.
Sample Audio
Read inside...