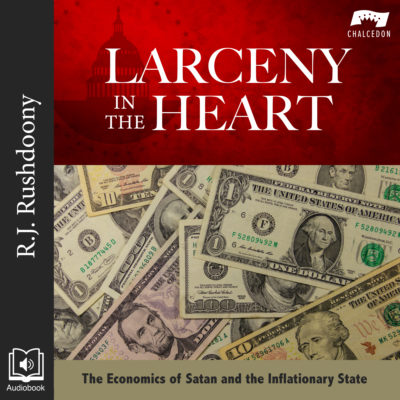 Why are the most successful and advanced members of society often deemed to be the criminals? In a word - Envy.
The envious man finds superiority in others intolerable, and he wishes to level and equalize all things. Many sociologists and social scientists turn this hatred and resentment into "virtue" under the guise of "social science" by calling it a demand for fraternity and equality.
In this concise volume, Rushdoony uncovers the larceny in the heart of man and its results: class warfare and conflict society in which the rise of hostility and envy are seen as steps towards social progress, when in fact they lead to disaster. The political solutions posited lead to a inflationary economy and an overbearing state.
This book is a must-read to gain a biblical understand of the underlying tenets of this codified coveting and the only certain long-term cure.
Originally title Roots of Inflation

Sample Audio
Chapters
Opening Credits
Introduction
Part One
The Meaning of Inflation
Regulations
Rationing
The Economics of Satan
Shortages
Morality and Economics
Larceny in the Heart
Inflation and the Love of Money
The State as Thief
Money and Value
Debt
Economic Forecasting
Why Humanism is Socialistic
The Curse of Bad Religion
Sin and Perfection
Part Two
Economics and the Doctrine of Main
Manichaeanism, Law, and Economics
The Polytheism of the Modern Mind
The Philosophy of Regulations
The Doctrine of the Harmony of Interests
Part Three
Money, Inheritance, and the Family
Closing Credits
Read inside...