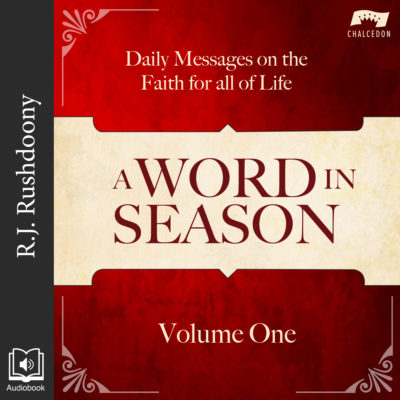 Daily Messages on the Faith For All of Life
Introducing the first volume in a series of books with daily messages by R. J. Rushdoony on the uncompromising faith.
These daily messages on the faith for all of life are unlike any compilation of Christian "devotional" ever published. In these pages, you won't find the overly introspective musings of a Christian pietist; what you'll discover are the hard-hitting convictions of a man whose sole commitment was faithfulness to God's law-word and representing that binding Word to his readers.
Although Dr. R. J. Rushdoony is most known for his scholarly works on theology, history, philosophy, economics, education, and statecraft, A Word in Season reveals the intense, but simple, approach to applying one's faith to every area of life and thought. This is all done in a format of bite-sized readings on the uncompromising faith.
The multi-volume series is taken from over 430 articles written by Rushdoony over the span of 25 years (1966-1991) for the California Farmer, an agricultural periodical that provided him a regular column entitled "The Pastor's Pulpit." It has long been a desire of many to see these insightful and challenging articles published in a book format. We're happy to announce that the wait is over. Read and enjoy!
Sample Audio
Chapters
Opening Credits

The Ultimate Sin
Self-righteousness
Proud Sins
True Blindness
Vision
Entering Life
Excuses
The Right to Sin?
How to Pollute Other People
Contagion
Faith in Injustice
False Cures
Barking
Salvation by Nagging
Tolerance
Tolerance and Intolerance
Moral Standards
A Test of Man
Envy
Fence Breakers
Is Chastity Obsolete?
Hypocrites
Religious Hypochondriacs
Slander
The Love of a Lie
The Unwashed Generation
A Letter to a Sleepy Friend
Solitude
How to Insure Trouble
The Depths of Satan
Irrelevant Preaching
The Return to Barbarism
Charity Begins at Home
Poverty by Choice
Who Owns the Child?
Train Up a Child
The Law of the Pack
How to Produce a Hippie
As a Man Thinketh
Fools
Learning and Wisdom
Can Experience Teach
Pruning
Testing and Purity
Personal Problems
Humility
Happiness
Is God an Insurance Agent?
Is He a Christian?
Fearfulness
What Do You Stand For?
Standards
Murder Mysteries
Shiloh
The Price of Salvation
The First Days of the New Creation
Against Spiritual People
Duty
Problems
Trusting God
The Open Door
Under the Eye of God
I Know People
The Principle of Change
The Right Way
Closing Credits
Read inside...