This Independent Republic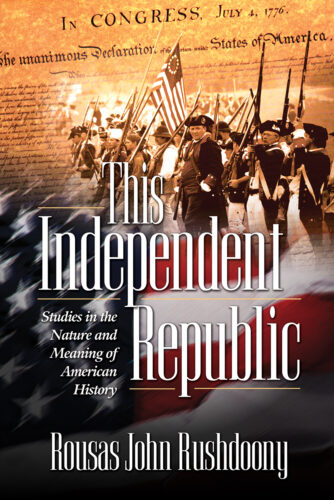 First published in 1964, this series of essays gives important insight into American history by one who could trace American development in terms of the Christian ideas which gave it direction.
These essays will greatly alter your understanding of, and appreciation for, American history. Topics discussed include: the legal issues behind the War of Independence; sovereignty as a theological tenet foreign to colonial political thought and the Constitution; the desire for land as a consequence of the belief in .inheriting the land" as a future blessing, not an immediate economic asset; federalism's localism as an inheritance of feudalism; the local control of property as a guarantee of liberty; why federal elections were long considered of less importance than local politics; how early American ideas attributed to democratic thought were based on religious ideals of communion and community; and the absurdity of a mathematical concept of equality being applied to people.
Read inside...
| | |
| --- | --- |
| Media Length | 163 pages |
| Topics | American History, Biblical Law, Christian Reconstruction, Constitution, The, Dominion, Government, Justice, Socialism, Statism, Theology |