JCR Vol 10 No 1: Symposium on the Media and the Arts
By R. J. Rushdoony, Franky Schaeffer V, Martin G. Selbrede, Otto Scott, John Saunders (Quade), James H. Griffith, Joe David Taylor, Roy H. Wagner III, Richard E. Germaine, Paul Lyons, Hermann Dooyeweerd, Magnus Verbrugger, M.D., Jean-Marc Berthoud, Tommy W. Rogers, Bill Kellogg, Richard Douglas Green, Howard Ahmanson, Caroline Kelly, Haven B. Gow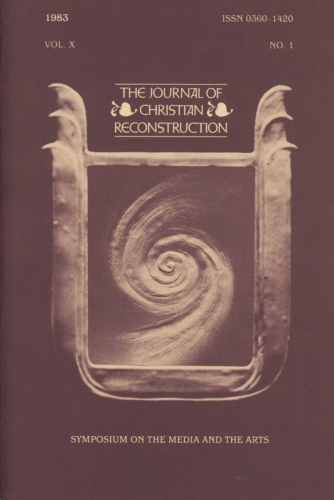 Since this issue of the  Journal of Christian Reconstruction is devoted to the Western Conference on the Media and Arts, meeting in Sacramento, California, on October 14-15, 1982
Read inside...
About the authors
R. J. Rushdoony
Rev. R.J. Rushdoony (1916–2001), was a leading theologian, church/state expert, and author of numerous works on the application of Biblical law to society. He started the Chalcedon Foundation in 1965. His Institutes of Biblical Law (1973) began the contemporary theonomy movement which posits the validity of Biblical law as God's standard of obedience for all. He therefore saw God's law as the basis of the modern Christian response to the cultural decline, one he attributed to the church's false view of God's law being opposed to His grace. This broad Christian response he described as "Christian Reconstruction." He is credited with igniting the modern Christian school and homeschooling movements in the mid to late 20th century. He also traveled extensively lecturing and serving as an expert witness in numerous court cases regarding religious liberty. Many ministry and educational efforts that continue today, took their philosophical and Biblical roots from his lectures and books.
Franky Schaeffer V
Martin G. Selbrede
Martin is the senior researcher for Chalcedon's ongoing work of Christian scholarship, along with being the senior editor for Chalcedon's publications, Arise & Build and The Chalcedon Report. He is considered a foremost expert in the thinking of R.J. Rushdoony. A sought-after speaker, Martin travels extensively and lectures on behalf of Christian Reconstruction and the Chalcedon Foundation. He is also an accomplished musician and composer.
Otto Scott
Otto Scott (May 26, 1918—May 5, 2006), a former Chalcedon staffer, was a journalist, business executive, and historian. He began his newspaper career at the age of sixteen and later worked for United Features Syndicate and TheSan Diego Union. When WWII broke out he joined the Merchant Marine.  After the war, Scott worked in the advertising industry, then became editor of a manufacturing trade journal, Rubber World. In the course of his assignments, he interviewed Paul Blazer, the chairman of Ashland Oil, in Ashland, Kentucky, and was invited to write the history of the company. He would later write corporate histories for Raytheon, Black & Decker, and Arch Mineral Corporation.  After his conversion to Christianity, he focused on writing about modern history, politics, and cultural trends.  In his later years, he worked for Chalcedon before publishing his own newsletter, The Compass.
John Saunders (Quade)
John Saunders (1938-2009) While working in missile and aerospace, he got involved in community theater and was discovered, and did his first televison show (Bonanza) in 1968. For the next 22 years he worked in more than 130 film and television shows. He loved studying and sharing his Christian faith.  He produced the Western Conference on the Media and the Arts for Chalcedon. He is survived by his wife of 39 years, 6 children and 13 grandchildren.
→ More by John Saunders (Quade)
James H. Griffith
Joe David Taylor
Roy H. Wagner III
Richard E. Germaine
Paul Lyons
Hermann Dooyeweerd
Magnus Verbrugger, M.D.
→ More by Magnus Verbrugger, M.D.
Jean-Marc Berthoud
Jean-Marc Berthoud was born in 1939 in South Africa from Swiss missionary parents and lives in Lausanne, Switzerland. He holds Bachelor of Arts and Bachelor of Arts with Honors degrees from the Witwatersrand in Johannesburg, South Africa. He is the editor of the review Résister et Construire, president of the Association Vaudoise de Parents chrétiens in Switzerland, and of the Association Création, Bible et Science, and is the author of numerous books.
Tommy W. Rogers
Bill Kellogg
Richard Douglas Green
→ More by Richard Douglas Green
Howard Ahmanson
Caroline Kelly
Haven B. Gow