JCR Vol 7 No 1: Symposium on Inflation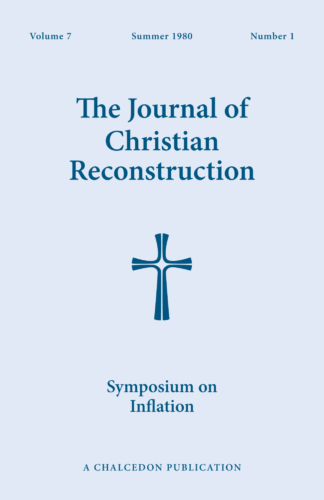 Inflation is one of the major scourges of the twentieth century. Nation after nation has been plagued by inflation in this century, yet the blight continues.
Read inside...
About the authors
Bruce Bartlett
Carl Bogue
Donald Kemmerer
Robert Metcalf
Gary North
Dr. Gary North (1942-2022), served as the editor of the Journal of Christian Reconstruction from 1974-81. He is the noted author of scores of articles and over thirty books on economics and history. He served as editor for GaryNorth.com and The Tea Party Economist and was the Director of Curriculum Development for the Ron Paul Curriculum.
Tommy W. Rogers
Tom Rose
Tom is a retired professor of economics, Grove City College, Pennsylvania. He is author of seven books and hundreds of articles dealing with economic and political issues. His articles have regularly appeared in The Christian Statesman, published by the National Reform Association, Pittsburgh, PA, and in many other publications. He and his wife, Ruth, raise registered Barzona cattle on a farm near Mercer, PA, where they also write and publish economic textbooks for use by Christian colleges, high schools, and home educators. Rose's latest books are: Free Enterprise Economics in America and God, Gold and Civil Government.
Hans F. Sennholz
Mark Skousen
Stan F. Vaninger
Jim West
Jim West has pastored Covenant Reformed Church in Sacramento for the last 18 years. He is currently Associate Professor of Pastoral and Systematic Theology at City Seminary in Sacramento. He has authored The Missing Clincher Argument in the Tongues Debate, The Art of Choosing Your Love, The Covenant Baptism of Infants, and Christian Courtship Versus Dating. His latest book is Drinking with Calvin and Luther!