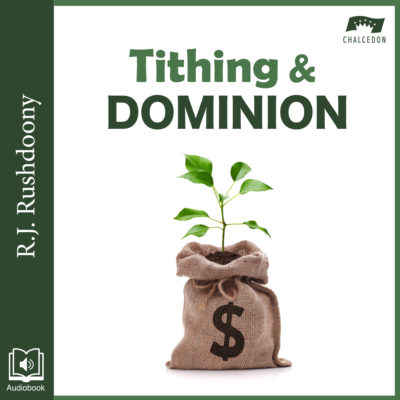 God's Kingdom covers all things in its scope, and its immediate ministry includes, according to Scripture, the ministry of grace (the church), instruction (the Christian and homeschool), help to the needy (the diaconate), and many other things. God's appointed means for financing His Kingdom activities is centrally the tithe. This work affirms that the Biblical requirement of tithing is a continuing aspect of God's law-word and cannot be neglected. This book is "must reading" as Christians work to take dominion in the Lord's name.
Sample Audio
Chapters
Opening Credits
Tithing and Christian Reconstruction
The Foundations Christian Reconstruction
Is Tithing Still the Law?
The Tithe in Scripture
Supporting the Kingdom
The Tithe in History
To Whom Do We Tithe?
The World of the Tithe
Sovereignty and Taxation
Economics and Taxation
God's Plan of Taxation
First-Fruits
First-Born
The Tithe
The Three Tithes
The Social Tithe
The Rejoicing Tithe
The Poor Tithe
Enforcing God's Taxes
The Hunger for an Easy Way
Closing Credits
Read inside...
| | |
| --- | --- |
| Product Contains | 212 MB & 305 MB |
| Media Length | 7 hrs and 9 mins |
| Topics | Biblical Law, Charity, Christian Reconstruction, Church History, Church, The, Culture , Economics, Education, Family & Marriage, Government, Justice, Theology |