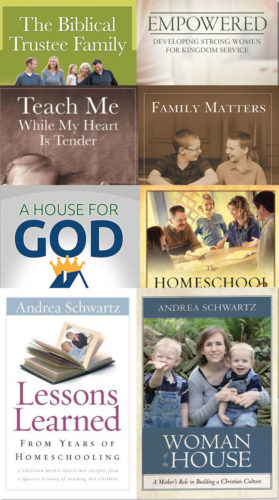 The Biblical Trustee Family, $16
God's basic institution is the family, and the Biblical family lives and operates in terms of a calling greater than itself - the Kingdom of God. In an age when the family is disparaged, warred against, and treated as a mere convention, it becomes the duty of Christians to bring God's plan for the family to listening ears. That's what Andrea Schwartz has accomplished in this collection of essays on The Biblical Trustee Family.
Stemming from her long years in homeschooling. Andrea elevates the Kingdom mandate as the driving purpose behind God's creation of the family, and the family's central task: education. Her passion is to equip Christian families - especially homeschooling mothers - not only with the tools of learning, but the tools of dominion.
Woman of the House: A Mother's Role in Building a Christian Culture, $14
In true Titus 2 fashion, Andrea Schwartz challenges women to reexamine several fundamental aspects of motherhood in light of Scripture. Beginning with a consideration of God's character and concluding with an invigorating charge to faithfulness, Andrea connects the dots between God's reality and a mother's duty. She draws from the lessons she's learned as a mother of three to encourage younger women to be prudent, to love their children, and to embrace the sanctifying work of the Spirit in their families.
Teach Me While My Heart Is Tender, $10
Read Aloud Stories for parents and children to read together. Engaging stories communicate Biblical Truth. A great addition to your home library.
Many people consider young children unable to handle difficult Biblical doctrines. Our Savior had so much confidence that children were able to receive his teachings that He presented children as examples that adults should follow as they entered the Kingdom. Not only are tenderhearted children ready to receive the Word, they have a receptivity to it that should not be ignored by their parents and teachers.
Andrea Schwartz has compiled three stories drawn from her family-life experiences to help parents teach children how the faith applies to every area of life. They confront the ugly reality of sin, the beauty of godly repentance, and the necessity of forgiveness. The stories are meant to be read by parents and children together. The interactions and discussions that will follow serve to draw families closer together.
This little volume is a much needed antidote to the pietistic, sentimental attitudes of our day.
Family Matters: Read Aloud Stories of Responsibility and Self-Discipline, $10
Read Aloud Stories for parents and children to read together. Engaging stories communicate Biblical Truth. A great addition to your home library.
Unless children are trained in self-control and self-discipline early in their lives, they move into their adult years without a sense of personal, familial, or societal responsibility. They are unable to make mature individual decisions and they are unable to effectively disseminate the gospel message in obedience to the Great Commission.
Andrea Schwartz, author of Teach Me While My Heart Is Tender, has again drawn from her family-life experiences to every area of life. These five stories focus on the necessity of responsibility and self-discipline in the "small things" working from the premise that, "Whoever can be trusted with very little can also be trusted with much" (Luke 16:10).
The stories are meant to be read by parents and children together and serve as useful conversation starters to educate boys and girls so they can be effective citizens in the Kingdom of God.
Lessons Learned From Years of Homeschooling, $14
After nearly a quarter century of homeschooling her children, Andrea Schwartz has experienced both the accomplishments and challenges that come with being a homeschooling mom. And, she's passionate about helping you learn her most valuable lessons. Discover the potential rewards of making the world your classroom and God's Word the foundation of everything you teach. Now you can benefit directly from Andrea's years of experience and obtain helpful insights to make your homeschooling adventure God-honoring, effective, and fun.
Andrea Schwartz is an active proponent of Christian education. She successfully homeschooled and graduated two of her three children through high school. She has taught in co-op settings, privately tutored and coached students in writing, public speaking, and drama, and has organized and run homeschool choirs and other extracurricular activities. She has written and directed a number of plays including a collaborative musical work, Walkin' Wise. She has had numerous articles appear in magazines and on national websites. She currently serves on the board of directors of a Christian junior and senior high school, offering her years of experience in applying the Word of God to all areas of learning, and reaching out to homeschooling families with extra activities and programs. Andrea lives in San Jose, CA with her husband of 30+ years and continues to homeschool her youngest daughter.
The Homeschool Life: Discovering God's Way to Family-Based Education, $17
Homeschooling expert, Andrea Schwartz, in this her second book opens the door to The Homeschool Life, allowing parents to see the glorious potential in this life-changing, God-honoring adventure. She offers sage advice concerning key aspects of homeschooling, while never losing her central focus of applying the Word of God to all areas of life and thought. She provides practical insights for parents as they seek to provide a Christian education for their children.
This volume focuses on help for parents who want to instill a thoroughly biblical approach to learning, teach sound biblical character as they cover all academic subjects, and learn how to choose curriculum that will equip them to raise a generation eager and ready to be ambassadors for Jesus Christ.
Andrea's practical, clear approach to homeschooling comes from twenty- six years in the trenches where she has learned that homeschooling parents are doing some of the most important work there is to do in the Kingdom of God and need all the help and encouragement they can get.
A House For God: Building a Kingdom-Driven Family, $14
There is one thing we are to seek. One vision given for us to fulfill. A single mission that would serve as the goal for something so large as a nation, yet specific to us as individuals. There is one primary cause by which we are to define all that we are, all that we have, and all that we do.
What we are to seek above all else is the Kingdom of God and His righteousness (Matt. 6:33) and to do the will of God on earth as it is in heaven (Matt. 6:10). A vital, governing institution for this mission is the family - in specific, the trustee family.
It is the Christian family that holds this great Kingdom mission "in trust" and instills this mission in its members. It is the Christian family that serves as the first church, state, workplace, and school in which children are prepared for godly dominion.
Therefore, Christian parents are called to establish Kingdom-driven families. They are to build a home for God - a house that is dedicated to the service of the King and His Kingdom.
To aid in this calling, Christian author and education expert, Andrea Schwartz has carefully put together this collection of essays entitled A House for God: Building a Kingdom-Driven Family.
Both your personal life and your family life will be challenged and transformed through the pages of this easy-to-read, insightful book on building a Kingdom-driven family.
Empowered: Developing Strong Women for Kingdom Service, $17
Strong women are integral to building a godly culture. However, many Christian circles are riddled with unsound doctrines, humanistic stereotypes, and hidden abuses that cripple the influence of women in their homes, churches, and communities. In these essays, Andrea Schwartz explores how Christ's absolute authority, the protection of the trustee family, the justice of God's law in abuse cases, and the careful study of Scripture liberates and empowers the Christian woman to take her vital place in the cause of Christ's Great Commission.
| | |
| --- | --- |
| Product Contains | Currently: 8 Books |