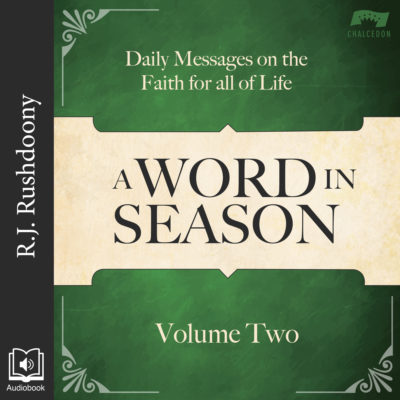 Daily Messages on the Faith For All of Life
Introducing the second in a series of books with daily messages by R. J. Rushdoony on the uncompromising faith.
These daily messages on the faith for all of life are unlike any compilation of Christian "devotional" ever published. In these pages, you won't find the overly introspective musings of a Christian pietist; what you'll discover are the hard-hitting convictions of a man whose sole commitment was faithfulness to God's law-word and representing that binding Word to his readers.
Although Dr. R. J. Rushdoony is most known for his scholarly works on theology, history, philosophy, economics, education, and statecraft, A Word in Season reveals the intense, but simple, approach to applying one's faith to every area of life and thought. This is all done in a format of bite-sized readings on the uncompromising faith.
The multi-volume series is taken from over 430 articles written by Rushdoony over the span of 25 years (1966-1991) for the California Farmer, an agricultural periodical that provided him a regular column entitled "The Pastor's Pulpit." It has long been a desire of many to see these insightful and challenging articles published in a book format. We're happy to announce that the wait is over. Read and enjoy!
Sample Audio
Chapters
Opening Credits
Guerrilla Country
Inscription at Timgad
The Faith of St. Patrick
The Coward Who Won a Medal
Faith
Faith in Action
The Relaxed Man
Seeds of Weeds
The Time of God's Power
The Resurrection
The Increase of His Government and Peace
Birth of the King
Judgement
Judge Not
Two Ancient Heresies
Fallen Man
Standards
Wisdom, True or False?
Hypocrites
The Kick Me Generation
Government
The Two Plans
Farming and National Welfare
The Family and Welfare
False Expectations
The Oath
The Blindfold on Justice
The Lord's Judgment
Rogation Sunday
God's Tax
Bread Upon the Waters
What is Law?
The Two Commandments
The Vengeance of God
Planting Thorns and Thistles
Thieves and Robbers
The Serpent in the Fence
The Exaltation of a People
Hindsight
Perseverance and Progress
Faith and Works
Listening to Life
The Water of Life
Prayer
True Prayer
Church and Government
The Stolen Church
Like People, Like Priest
Sensitive Church Members
The Congregation of the Dead
A Vulture Society vs. a Diaconal Society
On Eating Our Gifts
The Unchanging Word
The Power of the Word
The Prince of Peace
Time
Festival of Time
Fearing Tomorrow
Ferocious Times
The Future
Born of the Virgin Mary
Light at Evening Time
Closing Credits
Read inside...