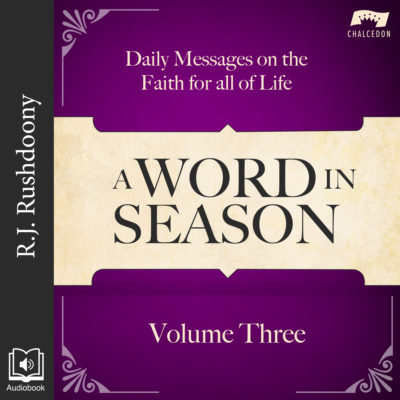 Daily Messages on the Faith For All of Life
Introducing the third in a series of books with daily messages by R. J. Rushdoony on the uncompromising faith.
These daily messages on the faith for all of life are unlike any compilation of Christian "devotional" ever published. In these pages, you won't find the overly introspective musings of a Christian pietist; what you'll discover are the hard-hitting convictions of a man whose sole commitment was faithfulness to God's law-word and representing that binding Word to his readers.
Although Dr. R. J. Rushdoony is most known for his scholarly works on theology, history, philosophy, economics, education, and statecraft, A Word in Season reveals the intense, but simple, approach to applying one's faith to every area of life and thought. This is all done in a format of bite-sized readings on the uncompromising faith.
The multi-volume series is taken from over 430 articles written by Rushdoony over the span of 25 years (1966-1991) for the California Farmer, an agricultural periodical that provided him a regular column entitled "The Pastor's Pulpit." It has long been a desire of many to see these insightful and challenging articles published in a book format. We're happy to announce that the wait is over. Read and enjoy!
Sample Audio
Chapters
Opening Credits
"Another King, One Jesus"
The King of Kings
Change
The Resurrection
God and the Future
A World of Rebellion
Judgment
The Work of Faith
Confounding the Mighty
In God We Trust
The Meaning of Words
Seizure and Property
The Law as a Song
Loving God
Men and Many Sparrows
Not By Bread Alone
Trick Questions
Protection Against Men
Cease Ye From Man
Danger
In the Mind of Christ
The Right to Lie
Baal Worship
The Foundation
Political Saviors
Praising the Wicked
Bramble Men
Resources and Advantages
Freedom and the Vote
Dictatorship and Freedom
The Fear of Freedom
Legislate Morality
Farm Stealing
Land and Lawlessness
Beginnings
Jonah
Hearing Coyotes
Majoring in Minors
Change
The Invisible Communion
Good Preaching
The Name of the Lord
Christ vs. Caesar
King John's World
Our Professional Thieves
The Death of Herod Agrippa I
The Choice
Thy Light is Come
The Truth and the Lie
Pruning
Whom the Lord Loveth
Man's Sole Purpose
The False Focus
Honest Work
Taxation
The People of Salt
Love and Obedience
What is Man Like?
Treaties
Priorities
Impatience
Idleness
Law Enforcement
Lawless Law
Closing Credits
Read inside...