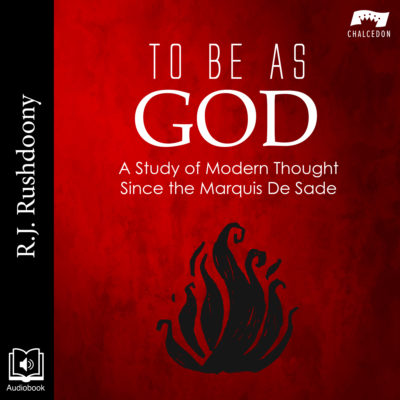 This monumental work is a series of essays on the influential thinkers and ideas in modern times. The author begins with De Sade, who self-consciously broke with any Christian basis for morality and law. Enlightenment thinking began with nature as the only reality, and Christianity was reduced to one option among many. It was then, in turn, attacked as anti-democratic and anti-freedom for its dogmatic assertion of the supernatural. Literary figures such as Shelly, Byron, Whitman, and more are also examined, for the Enlightenment presented both the intellectual and the artist as replacement for the theologian and his church. Ideas, such as "the spirit of the age," truth, reason, Romanticism, persona, and Gnosticism are related to the desire to negate God and Christian ethics. Reading this book will help you understand the need to avoid the syncretistic blending of humanistic philosophy with the Christian faith.
Sample Audio
Chapters
Opening Credits

Foreword
Chapter 1: The Marquis de Sade
Chapter 2: Supernatural vs. Natural Man
Chapter 3: Sadean Man as God
Chapter 4: The War Against Morality and Communication
Chapter 5: William Blake: "Everything that Lives is Holy"
Chapter 6: The Spirit of the Age
Chapter 7: Whatever Is, Is
Chapter 8: Percy Bysshe Shelley
Chapter 9: Lord Byron
Chapter 10: Karl Marx
Chapter 11: Persona
Chapter 12: Walt Whitman, The Artificial Man
Chapter 13: Non-Persons
Chapter 14: Being and Self-Definition
Chapter 15: Truth
Chapter 16: Accidental Man
Chapter 17: "Integration into the Void"
Chapter 18: Power
Chapter 19: Revolution and Death
Chapter 20: Gnosticism
Chapter 21: Friedrich Nietzsche
Chapter 22: Process Theology
Chapter 23: The Artificial Life
Chapter 24: The Dream of Reason
Chapter 25: Exorcism
Chapter 26: The Negation of God
Chapter 27: Ethical Autism and Self-Absorption
Chapter 28: Albert Schweitzer
Chapter 29: Paul Tillich
Closing Credits
Read inside...