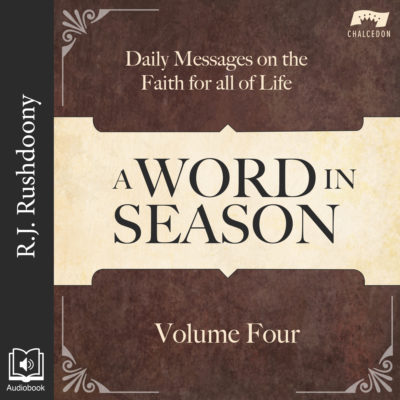 Daily Messages on the Faith For All of Life
Introducing the fourth in a series of books with daily messages by R. J. Rushdoony on the uncompromising faith.
These daily messages on the faith for all of life are unlike any compilation of Christian "devotional" ever published. In these pages, you won't find the overly introspective musings of a Christian pietist; what you'll discover are the hard-hitting convictions of a man whose sole commitment was faithfulness to God's law-word and representing that binding Word to his readers.
Although Dr. R. J. Rushdoony is most known for his scholarly works on theology, history, philosophy, economics, education, and statecraft, A Word in Season reveals the intense, but simple, approach to applying one's faith to every area of life and thought. This is all done in a format of bite-sized readings on the uncompromising faith.
The multi-volume series is taken from over 430 articles written by Rushdoony over the span of 25 years (1966-1991) for the California Farmer, an agricultural periodical that provided him a regular column entitled "The Pastor's Pulpit." It has long been a desire of many to see these insightful and challenging articles published in a book format. We're happy to announce that the wait is over. Read and enjoy!
Sample Audio
Chapters
Opening Credits

1. Old-Line Americans
2. Crippled Minds
3. A Life of Great Gain
4. Rottenness in the Bones
5. Is It a Man's World?
6. Planting Trees
7. Virtue
8. Work as a Privilege
9. The Resurrection
10. The Power of His Resurrection
11. The Birth of Jesus Christ
12. Rest
13. Friends
14. Guarded
15. "The Fool Hath Said"
16. Holiness
17. Horse Sense
18. Vaccination
19. Departure
20. Faith
21. Being Thankful
22. Weeds
23. First the Blade
24. Congregation of the Dead
25. Spiritual Junk Food Junkies
26. Definitions
27. Hearing God
28. Asking for Wisdom
29. Mountain-Bottom Life
30. Sin
31. Daydreams
32. Roots and Fruits
33. Losers
34. Science Says
35. Speech
36. Consequences
37. Morality and Life
38. Cease Ye from Man
39. Overcoming Evil
40. Salvation by What?
41. Fraudulent Morality
42. Lawlessness in the Nation
43. Our Just Reward
44. The War on Drugs
45. A Living Sacrifice
46. "Tender Mercies"?
47. The Truth
48. Breakdown and Renewal
49. Community
50. Tenants
51. The Frontier Still Stays Open
52. Barbarians
53. The Pride of Man
54. Honor to Whom Honor Is Due
55. The Great Commandment
56. Regulations
57. The Bible and Property
58. The Dictator
59. The New Religion
60. Conservation
61. Truth and Promises
62. Love and Justice
63. Looking Backward
64. Swelling of the Jordan
65. Soldiers of Christ
66. Mirrors
67. The Fountain Opened
68. Mary's Song
69. Under the Wings
70. The Dayspring
71. The Water of Life
Closing Credits
Read inside...