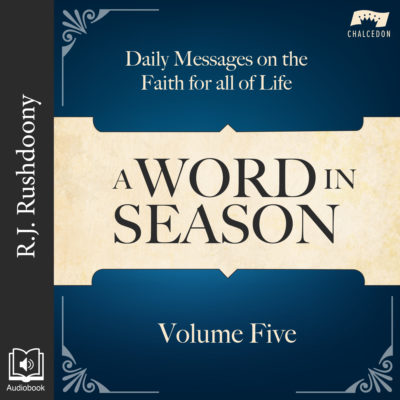 Daily Messages on the Faith For All of Life
Introducing the fifth in a series of books with daily messages by R. J. Rushdoony on the uncompromising faith.
These daily messages on the faith for all of life are unlike any compilation of Christian "devotional" ever published. In these pages, you won't find the overly introspective musings of a Christian pietist; what you'll discover are the hard-hitting convictions of a man whose sole commitment was faithfulness to God's law-word and representing that binding Word to his readers.
Although Dr. R. J. Rushdoony is most known for his scholarly works on theology, history, philosophy, economics, education, and statecraft, A Word in Season reveals the intense, but simple, approach to applying one's faith to every area of life and thought. This is all done in a format of bite-sized readings on the uncompromising faith.
The multi-volume series is taken from over 430 articles written by Rushdoony over the span of 25 years (1966-1991) for the California Farmer, an agricultural periodical that provided him a regular column entitled "The Pastor's Pulpit." It has long been a desire of many to see these insightful and challenging articles published in a book format. We're happy to announce that the wait is over. Read and enjoy!
Sample Audio
Chapters
Opening Credits

1. By Him All Things Consist
2. The Call to Victory
3. Let the Dead Bury the Dead
4. The Great Retreat
5. Choices
6. Oppression as Law
7. Property and the Family
8. Am I My Brother's Keeper?
9. See Life
10. The Straightness of God's Rule
11. Peace Among Ourselves
12. Remembering God
13. A Story Without an Ending
14. Which Savior?
15. National Defense
16. "That Thy Days May Be Long"
17. Honor Thy Father and Mother
18. The Fright Peddlers
19. The Christ Child
20. Trees and Babies
21. Power Poles
22. Profane Living
23. The Needed Change
24. Wisdom
25. Trashiness
26. Is the Underdog Always Innocent?
27. Chaos vs. Order
28. Is the Family Finished?
29. Discipline
30. The Trouble with Statistics
31. Opinions
32. Idolatry
33. A Good Conscience
34. The Spiritual Man
35. Rejoice
36. Dangerous People
37. The Judgment of Hypocrites
38. Can We Sanctify Folly?
39. Giving to God
40. Mother Murder
41. How to Be a Blessing
42. How to Be a Curse
43. Basic Education
44. Horror Stories
45. A Bad Teacher
46. The Almighty
47. The Family of Christ
48. The Death of a Lady
49. The Gospel
50. The Failure of Peashooter Religion
51. The Inheritance of Patience
52. Love Is of God
53. The Everlasting Arms
54. "Pray Without Ceasing"
55. The Lamp
56. The God of Abraham, Isaac, and Jacob
57. The Law of Kindness
58. Ingratitude
59. Thanksgiving
60. The Church
61. The Vindication of Joseph
Closing Credits
Read inside...