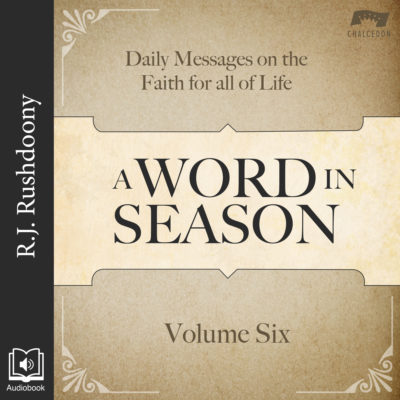 Daily Messages on the Faith For All of Life
Introducing the sixth in a series of books with daily messages by R. J. Rushdoony on the uncompromising faith.
These daily messages on the faith for all of life are unlike any compilation of Christian "devotional" ever published. In these pages, you won't find the overly introspective musings of a Christian pietist; what you'll discover are the hard-hitting convictions of a man whose sole commitment was faithfulness to God's law-word and representing that binding Word to his readers.
Although Dr. R. J. Rushdoony is most known for his scholarly works on theology, history, philosophy, economics, education, and statecraft, A Word in Season reveals the intense, but simple, approach to applying one's faith to every area of life and thought. This is all done in a format of bite-sized readings on the uncompromising faith.
The multi-volume series is taken from over 430 articles written by Rushdoony over the span of 25 years (1966-1991) for the California Farmer, an agricultural periodical that provided him a regular column entitled "The Pastor's Pulpit." It has long been a desire of many to see these insightful and challenging articles published in a book format. We're happy to announce that the wait is over. Read and enjoy!
Sample Audio
Chapters
Opening Credits
1. Faith
2. The Great Subversion
3. Anarchy
4. None Other Gods
5. Love and Hate
6. Hate Conquers All
7. How to Love Your Neighbor
8. Debt
9. God and Taxes
10. Telling the Time
11. Proverbs
12. Birth of Christ Our King
13. The Pharisees
14. In Praise of Strong Language
15. Spiritual Arson
16. Confession
17. Cowardly Church Members
18. About Pastors
19. The Departing Pastor
20. Double Honor
21. Blindness
22. The Test of Preaching
23. Mummified Christians
24. Is the Church Obsolete?
25. Belonging
26. Laymen
27. Stumblebums
28. Junk Preaching
29. Soured Cream
30. Prayer as Insult
31. Christ and Delano
32. A Cheap God
33. The Everyday Sin
34. The Living God
35. Joy to the World
36. Taking Up the Cross
37. Listening
38. Contentment
39. Covetousness
40. Thou Shalt Not Steal
41. Self-Sufficiency
42. Problems
43. Keep Yourself in the Boat
44. The Birth of Our Lord
45. Happiness
46. Pleasures of Hatred
47. How to Be a Socialist Without Knowing It
48. Thou Shalt Not Covet
49. Calling Good Evil
50. Following the Leader
51. Sex Education
52. God with Us
53. Our Father
54. Priority
55. The Spirit and Life
56. John Knox and His Mother-in-Law
57. Real Wealth
58. Music
59. The Resurrection
60. Pleasing Men Not by Praise but by Prayer
61. Insulting Prayers
62. Men of Faith
63. Work and Progress
64. The Living God
65. Thieves' Paradise
66. Folly on the Bench
67. Subsidizing Evil
Closing Credits
Read inside...