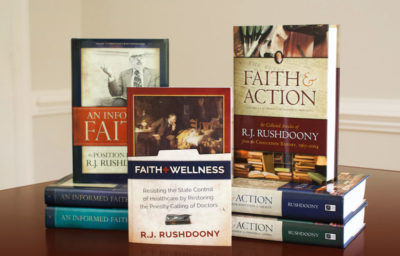 For A Limited Time
Get all 3 Legacy Publications for the Low Price of $110 (35% Savings)
Plus... Get FREE Shipping (US only)!
An Informed Faith
This beautiful three-volume collection of hardback books topically organizes ALL of Rushdoony's position papers (not only the 115 originally published in Roots of Reconstruction, but also 118 later essays, including six recently discovered unpublished papers).
Faith and Action
This three-volume collection of hardback books is the complete collection of the essays of R. J. Rushdoony written for the Chalcedon Report between 1965 and 2001 along with several transcripts of his recorded talks. The large volume Roots of Reconstruction only contained his Chalcedon Report essays up until 1985, so most of the essays included in Faith & Action were unavailable to readers for many years until now.
Faith and Wellness
This paperback books includes all the Medical Reports once part of Roots of Reconstruction.
| | |
| --- | --- |
| Product Contains | 7 volumes |
| Media Length | 2859 pages of contect with indices |