Christians in the Midst of a Plague
{This is an email received from two missionaries in Mexico. Pray that God raises more warriors like these folks!}


Ofelia Cuevas, affectionately known as Ofe, is our school nurse at the Pierre Viret Learning Center. She gives us half days because she also works at a state hospital. Her children are/have been students in the Learning Center. Ofe has been assigned to the COVID-19 ward as the head nurse of a shift.
Most of her patients, she tells us, seem to die of sadness rather than the virus. Disconnected from family and alone they fade away. When she got there, no one was daring to feed the patients or even talk to them. She saw some patients who had not eaten, their breakfast and lunch still on the trays untouched in their rooms. What to do?
Ofe got her shift together and challenged them to make changes and risk caring for their patients. One of the first things she did was invite the nurses and doctors to start every shift with the Lord's prayer, something she learned in the Learning Center. There are Catholics and unbelievers on the staff, but they all agreed and pray together willingly. They pray the same at meals.
Setting the example, she began to feed the patients and talk to them. She showed me a video of her bent over an old man sick with the virus, boldly risking her life as far as she knew, holding her telephone with a video call so the family could talk to him. Have to admit, that one choked me up. Such contact with family was against hospital policy. Something I love about Mexicans, when a rule like this makes no sense, they ignore it. This is especially true when it comes to interpersonal relationships.
No one was coerced to risk contact with the patients, they just started following Ofe's lead. Her first brave followers were three nurses, two of them Christians and one an unbeliever that has always been a challenge to get along with.
At first, Ofe was angry about the assignment but now understands why she is there and pleased to serve the Lord in this difficult time. She is walking in the pathway of our Christian ancestors from the times of the plagues of past centuries.
Praise God for raising up the Ofe's of our generation. May God bless her and her family for many years to come. And may we too be those people wherever we are.
For His glory,
Roger and Marcy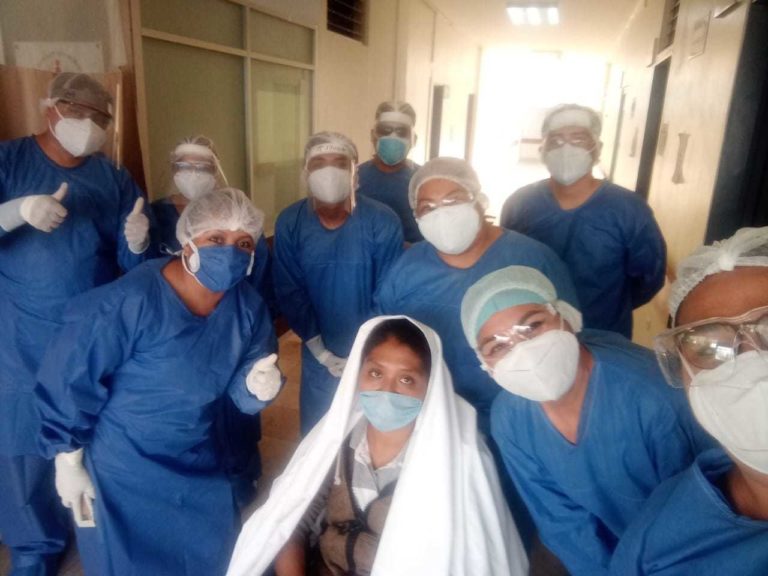 Here is a picture of Ofe and her team celebrating a patient going home.