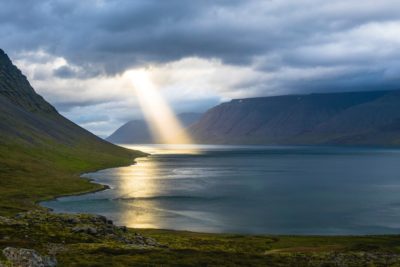 California Farmer 261:2 (Aug. 11, 1984), p. 21.
In 2 Thessalonians 1:8, we are told that the Lord will come "[i]n flaming fire taking vengeance on them that know not God, and that obey not the gospel of our Lord Jesus Christ." The word "taking" is in the Greek didontos, from didomi, which most commonly means "give." In other words, the vengeance of the Lord is not something brought in as an imposition on sin but as a necessary consequence of sin.
This same thought also appears plainly in Deuteronomy 28:2 and 15. We are told that faithfulness leads to inescapable blessings which come upon us and overtake us. Similarly, the curses of God upon disobedience are inescapable: "[A]ll these curses shall come upon thee, and overtake thee."
We can say that, just as jumping off a tall cliff will kill us when we reach the end of our fast journey, so too sin is a trip that yields disaster. That built-in disaster, now and at the end of time, is the judgment of the Lord. If we jump off a high cliff, the end result is inescapable; so too is all sinning. The wages it pays is death (Rom. 6:23).
This is true of men, and also of nations. When a nation seeks its own will rather than God's way, it embarks on a disaster course. It jumps off the cliff of reality.
Men and nations are today racing for that cliff in their lawlessness and blindness. They refuse to believe in God's inescapable judgment; if they talk about God at all, it is only of His love.
God's love and grace are very real, but so too is His judgment. To eliminate any aspect of God's being is to falsify Scripture and to turn the living God into an idol of our imagination and a vain thing.
Topics: Biblical Law, Culture