JCR Vol. 07 No. 02: Symposium on Evangelism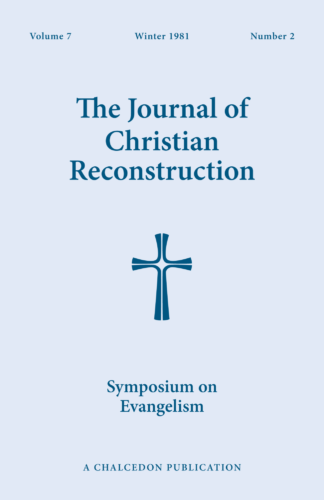 If we are to become successful in promoting our perspective within the existing church setting, the ministers who are beginning their pastoral ministries will have to develop programs of evangelism that really do bring in new converts.
Read inside...
Topics: Church, The, Culture , Theology, Dominion
R. J. Rushdoony
Rev. R.J. Rushdoony (1916–2001), was a leading theologian, church/state expert, and author of numerous works on the application of Biblical law to society. He started the Chalcedon Foundation in 1965. His Institutes of Biblical Law (1973) began the contemporary theonomy movement which posits the validity of Biblical law as God's standard of obedience for all. He therefore saw God's law as the basis of the modern Christian response to the cultural decline, one he attributed to the church's false view of God's law being opposed to His grace. This broad Christian response he described as "Christian Reconstruction." He is credited with igniting the modern Christian school and homeschooling movements in the mid to late 20th century. He also traveled extensively lecturing and serving as an expert witness in numerous court cases regarding religious liberty. Many ministry and educational efforts that continue today, took their philosophical and Biblical roots from his lectures and books.
Kenneth L. Gentry, Jr., Th.D.
Kenneth L. Gentry, Jr., holds degrees from Tennessee Temple University (B.A.), Reformed Theological Seminary (M. Div.), and Whitefield Theological Seminary (Th. M.; Th. D).  He also attended Grace Theological Seminary for two years.  He is Research Professor in New Testament (Whitefield Theological Seminary), a theological writer, and conference speaker. He has written numerous books and articles on issues such as theology, ecclesiology, eschatology, theonomy, six-day creation, presuppositionalism, worldview, Christian education, and more.  He also offers a Christian writing correspondence course.  He is the Director of GoodBirth Ministries, a non-profit religious educational ministry committed to sponsoring, subsidizing, and advancing serious Christian scholarship and education.  He is a retired Presbyterian minister holding his ordination vows in the Reformed Presbyterian Church, General Assembly.
→ More by Kenneth L. Gentry, Jr., Th.D.
Herbert Bowsher
Francis E. Mahafly
Jefferson G. Duckett
→ More by Jefferson G. Duckett
James B. Jordan
Gary North
Dr. Gary North (1942-2022), served as the editor of the Journal of Christian Reconstruction from 1974-81. He is the noted author of scores of articles and over thirty books on economics and history. He served as editor for GaryNorth.com and The Tea Party Economist and was the Director of Curriculum Development for the Ron Paul Curriculum.
Lewis Edwards Bulkeley
→ More by Lewis Edwards Bulkeley
Donovan A. Courville
→ More by Donovan A. Courville
Richard Flinn
Tommy W. Rogers