#1 "The Anatomy of Abuse" from the Domestic Abuse and the Church Conference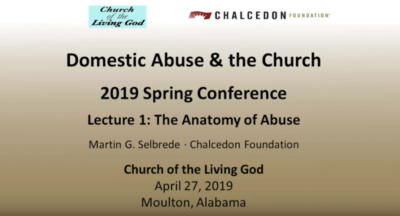 This is lecture 1/4 from the conference held in spring of 2019 with Chalcedon Vice-president Martin Selbrede as the featured speaker. Although this conference was called "Domestic Abuse and the Church," it also focused attention on a wider range of abuses, particularly abuse by clergy and churches. Attendees came from five different states (Alabama, Georgia, Tennessee, Virginia, and Michigan) to learn more about these critical issues.
ACKNOWLEDGMENTS: Many thanks to the conference host and sponsor, The Church of the Living God (Moulton, Alabama) and its pastor, Jim Nelson. Conference video and audio recording: Kyle Shepherd. Cameras courtesy of SignPilot, LLC. Conference technical assistants: Ben Nelson, Philip Nelson, and Nathan Conkey. Conference promotion: Tim Yarbrough. Video postproduction and editing: Kevin Amundson. Audio postproduction: Martin Selbrede.
Topics: Church, The, Family & Marriage, Justice