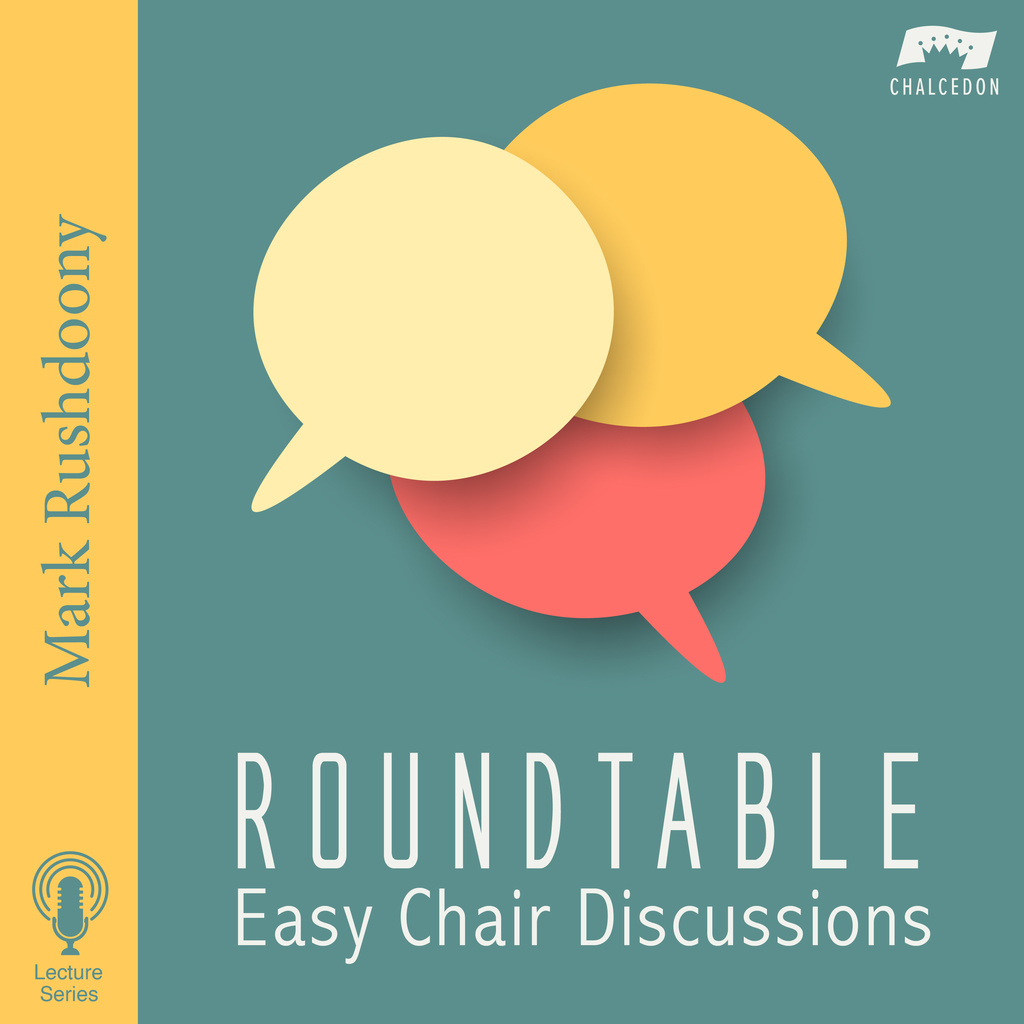 Audio Album
Roundtable Easy Chair Discussions
Special sessions of the weekly Men's Roundtable discussion with Mark Rushdoony, Chalcedon's president.

Mark R. Rushdoony,
Ford Schwartz,
Chris Zimmerman
---

Mark R. Rushdoony graduated from Los Angeles Baptist College (now The Master's College) with a B.A. in history in 1975 and was ordained to the ministry in 1995.
He taught junior and senior high classes in history, Bible, civics and economics at a Christian school in Virginia for three years before joining the staff of Chalcedon in 1978. He was the Director of Chalcedon Christian School for 14 years while teaching full time. He also helped tutor all of his children through high school.
In 1998, he became the President of Chalcedon and Ross House Books, and, more recently another publishing arm, Storehouse Press. Chalcedon and its subsidiaries publish many titles plus CDs, mp3s, and an extensive online archive at www.chalcedon.edu.
He has written scores of articles for Chalcedon's publications, both the Chalcedon Report and Faith for all of Life. He was a contributing author to The Great Christian Revolution (1991). He has spoken at numerous conferences and churches in the U.S. and abroad.
Mark Rushdoony lives in Vallecito, California, his home of 43 years with his wife of 45 years and his youngest son. He has three married children and nine grandchildren.
More by Mark R. Rushdoony
Ford Schwartz lives in San Jose, CA and works as a sales manager at a car dealership. He is on the Board of Chalcedon. He and his wife, Andrea, have been married for 41 years and have 3 children. 
More by Ford Schwartz
Chris Zimmerman is a Chalcedon Underwriter and resides in Nevada, with his wife and family. He works for an airline in the I.T. department. He is also the co-host of the weekly Men's Roundtable online Bible study.
More by Chris Zimmerman