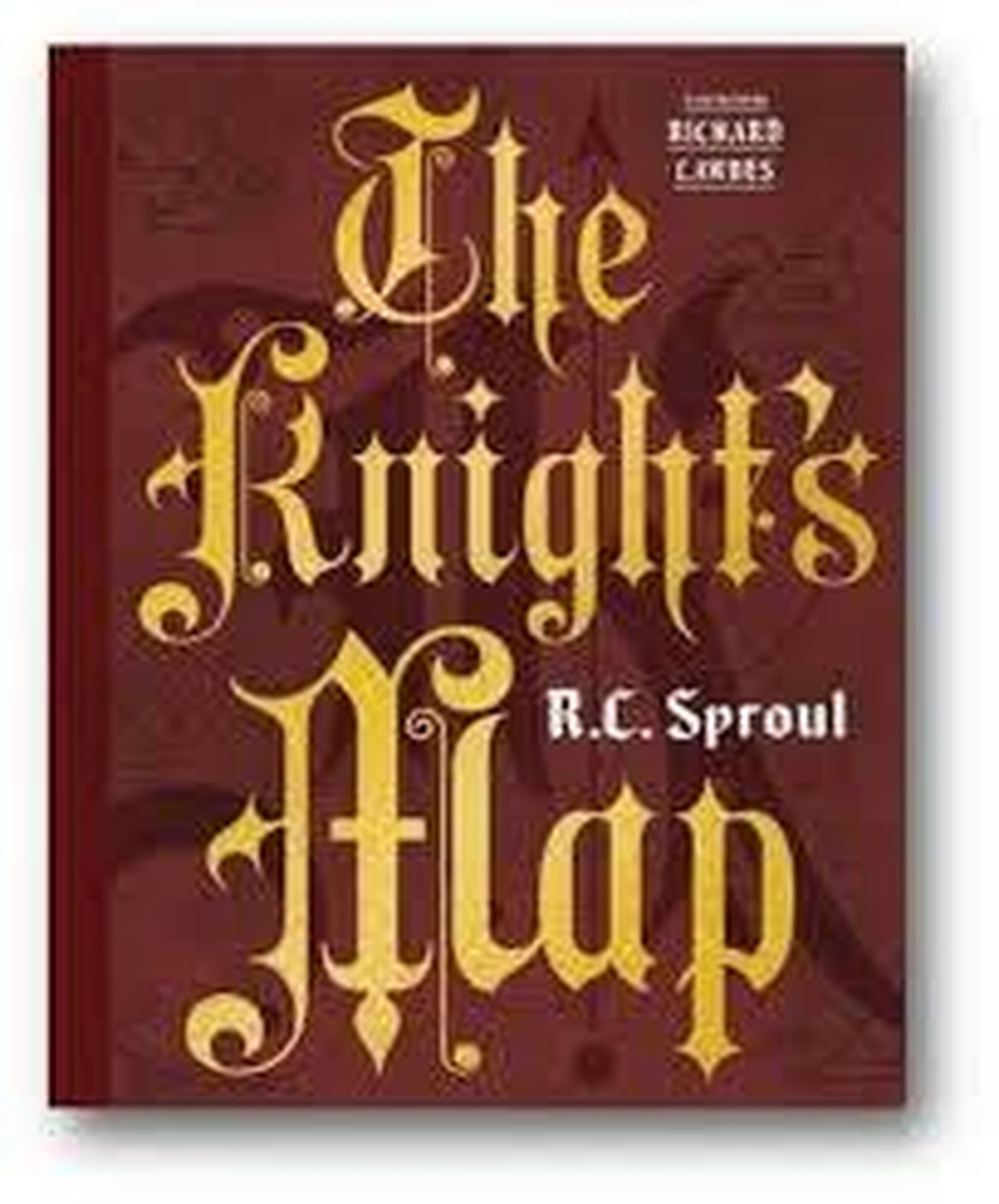 Magazine Article
"The Knight's Map" by R. C. Sproul
A simple truth, but one that needs saying: Without the Bible, without God's Word, we will not find our way to Jesus Christ.

(Reformation Trust Publishing, Orlando, FL, 2015) Illustrated by Richard Lawnes. 
R. C. Sproul, one of the great Reformed theologians of our time, has done something that very much needed doing, and done it very well. He has written a little book for very young children that will teach them to believe the Bible and to trust it as God's word.
The importance of the Bible can't be overstated. It is God's own word, handed down to us by the Holy Spirit speaking through human beings, and preserved intact, by God's providence, over many centuries. If the Bible is not God's word, then we simply don't have God's word—period.
Beautifully, generously illustrated in full color by Richard Lawnes, The Knight's Map is short enough to be read aloud to children in a single sitting—just seventeen pages of text. Indeed, it'll be a challenge to write a book review that isn't longer than the book.
From Sproul's introduction, A Letter to Parents, "Our children and grandchildren need to be firmly convinced that Scripture is true and trustworthy in directing us to Jesus Christ." The story he tells is based on Jesus' parable of The Pearl of Great Price (Matt. 13:45–46); and to help parents make sure they are instilling the lesson intended, Sproul has also provided two pages of questions and answers which "may be helpful to you in guiding your child into a deeper understanding of the scriptural truths behind the book." How he has made this look so easy is wonderful to behold.
A Letter from the Great King
This is the story of a knight, Sir Charles, who once upon a time received a letter from the Great King, inviting him to come to him and find "a wonderful treasure—the Pearl of Great Price. This treasure will last forever; it won't rust or fade away. Blessings to you on your journey." And included with the letter is a map. Sir Charles has heard many stories about the Great King, but knows of no one who has ever seen him. It's all difficult for him to believe, but eventually he decides to accept the invitation and undertake the journey.
Charles has a great deal of trouble understanding the map, and along the way he meets characters who give him advice—mostly bad advice. "Mr. Skeptic" gets him lost in a swamp. "Mr. Idol Maker" sends him on a wild goose chase after "plenty of things that are just as good as the Pearl of Great Price." And "Mr. Liberal" sends him on "a much easier way" that turns out to be a dead end. But at last he encounters "Mr. Pilgrim," who says, "I have been sent by a very wise man. He can help you read the map  …"
This wise man is "Mr. Lamp Maker"—representing the Holy Spirit—who actually drew the map. He tells Sir Charles how, long ago, the Great King's people became separated from him by listening to the King's enemy and being deceived into disobedience. This separation would have been their doom, but the King still loved them and sent his own son, the Prince, to rescue them and bring them back.
After hearing the story of the Son of the Great King, Sir Charles finds that he can now read and understand the map—and, as we might expect, the knight finds his way to the Great King's kingdom, where he lived joyfully from then on: because, after faithfully following the map, he meets the Prince: "I am the Pearl of Great Price."
Why the Story?
The story of Sir Charles is framed within another story about a young Christian boy, Donovan, who has a problem, which he brings to his father. "Dad, the kids at baseball laugh and tease me and say we're old-fashioned. They say we're wasting our time reading the Bible; that it's just an old book full of made-up stories" (p. 6).
"An old book full of made-up stories"—how many times have we heard that! I have heard it from people who call themselves Christians: heard it many more times than I'd like. I have heard those words from an official of the church. Can anyone look at the condition of the world, and the state of Western culture, and of far too many of our churches, and deny that those words have done real harm?
To counter that claim is why Donovan's grandfather must tell him the story of Sir Charles and his map. The map, of course, is the Bible. And once the knight is able to believe that the map is true and reliable, he is able to follow it to Christ.
A simple truth, but one that needs saying: without the Bible, without God's word, we will not find our way to Jesus Christ.
And the sooner in life we learn that, the better.
---

Lee is the author of the Bell Mountain Series of novels and a contributing editor for our Faith for All of Life magazine. Lee provides commentary on cultural trends and relevant issues to Christians, along with providing cogent book and media reviews.
Lee has his own blog at www.leeduigon.com.
More by Lee Duigon